New Brighton/St. Anthony Moms on the Run coach Anna Carlson and her daughter Maya celebrated a couple of important milestones — turning 50 and 16, respectively — by crossing the finish line of their first marathon together. However, this was not your ordinary marathon training and finish line. That's because Anna and teammate Blair pushed Maya — who has a rare condition called lissencephaly — 26.2 miles in a jogging stroller.
Anna spent the majority of her summer training for Maya's first marathon by running with a 75 pound sandbag and a bag of cat litter in a stroller. Trained and ready to go, the morning of Twin Cities marathon they received the dreaded news that the marathon was cancelled because of black flag conditions. Anna and Maya immediately pivoted and registered for the Mankato (MN) marathon. Read the rest of this inspiring journey, told from Anna's perspective, and learn why she is our inspiring member of the month.
Becoming a Marathoner
"Now that I've had a few days to process, I am ready to share the story of Maya's marathon! Maya is the reason that I became a runner in the first place about 14 years ago. She was going to a specialized therapy at that time, in which the body teaches the brain versus the brain teaching the body to complete a movement. Her therapist made the comment that for Maya to learn each tiny step to get to a larger movement was like training to run a marathon.
Crystal and I started a Couch Potato to 5K running program that very week because of what her therapist said. That first 5K felt like a marathon to me, and I never thought I would get to the point of actually running one. That changed in 2019 when I ran my first marathon in Eau Claire, WI, and it was really special when they allowed me to meet Maya right before the finish to push her across the line with me.
From there, I went on to run three more marathons, and we also got Maya involved with My Team Triumph of Minnesota. Through this organization, Maya is a captain and those that push her are her angels. She registers just like any other athlete for races, and she gets a medal at the end too! She participated in a few shorter races and then I got inspired to train to push her through a full marathon.
I turned 50 this year, and Maya turned sweet 16, so it felt like this was the year to do it as a way to mark these milestones. I worked with a coach, Heather from Joyful Purpose running, and she helped me with a plan that focused on strength, running and pushing, and I spent a lot of the summer pushing 75 pounds from a sand bag and a bag of cat litter in a running stroller. We also fundraised at this time to get Maya her own race chair, which we recently received, and can't wait to use it for training and races in the future!
Change of Plans
As most of you know, we were originally supposed to run the Twin Cities marathon on Oct 1, and it was canceled due to heat/black flag conditions. The week leading up to that day, I was pretty anxious about the weather knowing that the forecast looked to be very hot, and those conditions are not only hard on runners, but also on Maya's system. I surrendered that race to God and kept getting messages all week that He was covering me/us, and I knew that whatever was meant to happen would. 
When the cancellation was announced that Sunday morning, I was disappointed of course. However, I was also relieved that we wouldn't have to face those conditions. We had a plan to keep Maya safe, but it would have taken a lot of energy to execute that plan. Before it even canceled, something in me told me to search for an alternative marathon just in case, so I had already reached out to the Mankato marathon race director to ask if I would be allowed to push Maya in that race. She said we would be welcomed, so I registered as soon as Twin Cities was canceled. My co-angel Blair was also game to sign up for Mankato and registered as well. Then the My Team Triumph-MN director, Ben, worked with the Mankato race team to make sure we would be set up there and also lent equipment to us for the race. (We have Maya's race chair that is not quite ready for a race yet….undergoing some modifications!)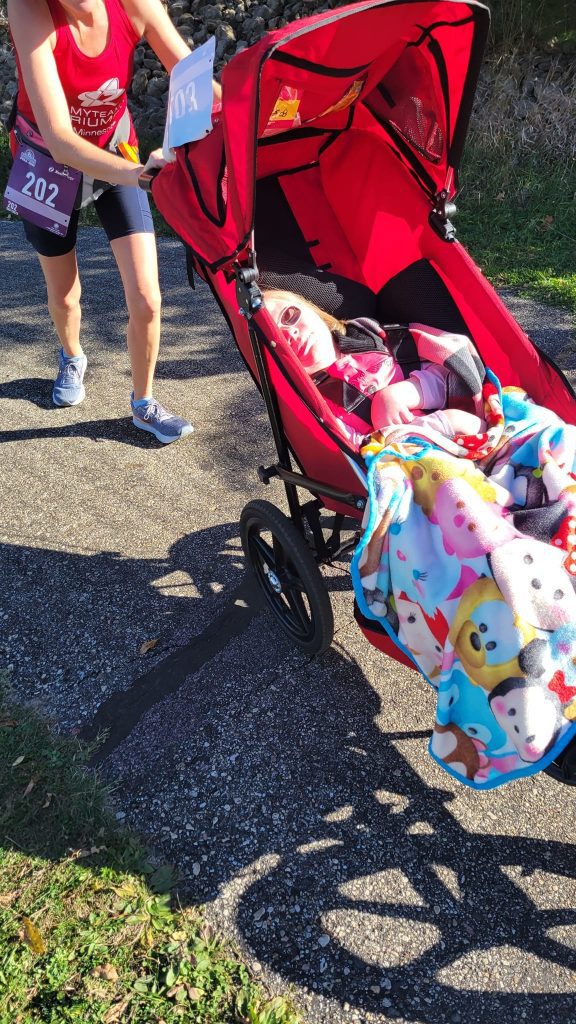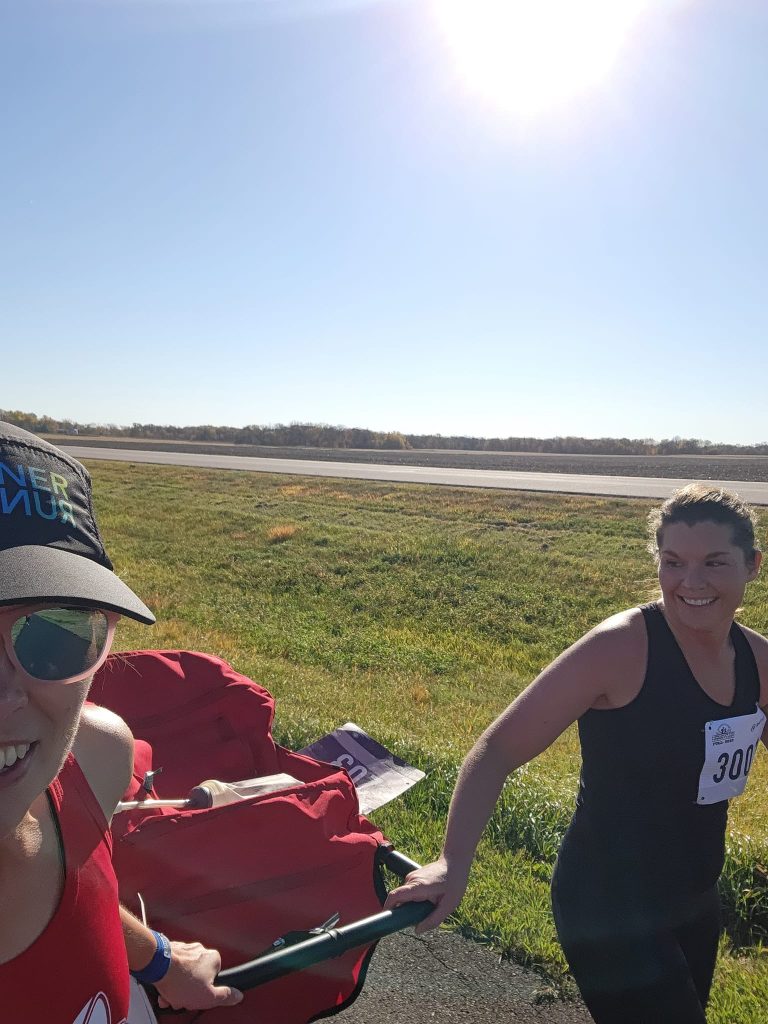 Race Day
We finally made it to race day on Saturday and the weather was absolutely beautiful.  The temp started at 45 degrees and warmed up to 57, partly cloudy and leaves at peak season. We could not have asked for a more beautiful day. We were given a one minute head start to get out of the mob of people, so we were given a special announcement and were off!  
As soon as we got going, I really knew that this was the marathon meant for Maya. So many parts of the course and journey resonated with how life is for her. 
Hills!

  This marathon had nearly 1,000 feet of elevation and there were many more uphill climbs than downhills. When pushing up a hill, it's better to walk than run, and it often takes two people to make it to the top. In Maya's life there are many hills to climb that can slow her and us down, and it often takes a team effort to get her there!

Twists and turns!

  There was one section near the beginning of the race that went through a residential area that was full of curves. Each turn requires a little extra upper body work as we are pushing the chair, so our shoulders felt it big time. In Maya's life, the path is not very often straight. We take many twists and turns to get from one point to the next, and we put in the extra effort to help her along the way!

Wind!

  While the temperature was absolutely ideal for running a marathon, the one part of the weather that was a challenge was the wind. The gusts were anywhere from 14-25 mph during the race. In some parts through wooded trails, we were completely protected from it, and in others we were next to wide open fields with strong gusts. In fact, for a stretch of about 3-4 miles, the wind was so strong against our faces that it turned the race chair with its sun canopy into a sail and it was VERY difficult to push it forward. We turned the chair backwards, each grabbed a side, and pulled Maya through those miles! This was definitely not something either of us had practiced in training, but it worked! And Maya absolutely loves the wind, so she was having a blast with it, laughing and babbling away. This is like all the changes in direction that we take along Maya's journey. We often have to tackle challenges in a different way to make things work the best for her. And while she has to face many obstacles, she smiles and laughs through most of life, reminding us of what's really important.
More Race Day Observations
Smaller Marathon Feel 

The Mankato marathon is definitely smaller than the Twin Cities by quite a bit, with just under 600 runners compared to more than 25,000. The spectators that came out were great, however very spaced out. We got a lot of cheers through that curvy residential area at the beginning, and then again as we went through the Minnesota State University Campus. After that, there were not many spectators to be found. We were very grateful for Crystal being there at various spots and holding up the precious sign that Maya's classmates made for her, and also for a fellow BAMRbassador, Kristen, who lives near Mankato and came out to cheer. There were many stretches when we could not see any other runners or spectators, so it felt kind of like a training run and we had to put on our best mental focus. Sometimes it can feel that way along Maya's journey too. There are not many other people that can relate to what it's like to be her parents and we can feel a bit alone at times. But, we have so many great cheerleaders in our lives and we are so grateful for their encouragement!

Back of the Pack/Pacing 

In a marathon when I'm on my own without pushing a chair, I am usually a middle of the pack runner. This time, we were definitely back of the pack, partially due to the pushing and challenges of the course for a wheelchair, and partially due to my co-angel's pacing needs. I had absolutely no time goal for this race. My main goal was to get Maya across that finish line. It did not bother me whatsoever that this was a slower pace than what I'm used to. I was very happy to do whatever needed to help Blair along the way because we were a team, and we had a common goal to accomplish together. Being at the back really gave me some appreciation too. There was a guy on a golf cart that followed behind and sometimes would come alongside us to chat a bit. He also went in front of us when we were on a busier road with flashing lights on so that we were more visible to cars. It kind of felt like we had a guardian angel along the way! There were also medical team members on road bikes that often came alongside to check in and engage us in conversation, which was a nice distraction when things got tough! I felt like we had such a support team with these people, and we have such a support team in Maya's life too! It is also important for us to go at a pace that is comfortable for Maya and others on her team. She may often be at the back and behind what others are doing, but there are so many little blessings to look for along the way.
So Much Beauty
Beauty

There was so much beauty of all kinds during this race. We went through some gorgeous wooded trails where the fall colors were gleaming and the wind made the leaves twirl and dance around us. It felt kind of magical!  The sunshine was just the perfect amount, not enough to make us hot, but enough to keep the wind from being cold. And then there was the beauty of watching Maya go through the race. When it was Blair's turn to push, I would run a little ahead to be able to watch Maya's face, and she was literally glowing for a majority of it. She took a few little snoozes, but then was wide awake giving us smiles, laughter, and happy noises. Bethany and Kimary each made her a playlist of music that we had going on speaker, and she did her singing noises for quite a few songs. Watching her was almost surreal for me. Each time I ran ahead to look at her, I got a little emotional and got the motivation to keep going because Maya was going to finish her first marathon! Her life is full of so much beauty from the simple things, and we have learned that from her.

The finish line

When we got to the last mile of the race, Blair was struggling physically and told me she wanted to make a deal. There was one hill right at the start of mile 26. Blair said she wanted to push Maya up that hill so that I could save a little energy, and then she wanted me to take off and get Maya to the finish. I tried to convince her that we should finish as a team, but she really wanted me to have this moment with Maya, and so I agreed. Blair got Maya up that hill and then I took over and had my typical burst of energy that I get when I know I'm almost done. When there was a half a mile left and I could see that finish line ahead, a woman on an electric bike, who was from the sports psychology department at the university, came beside us and was our cheerleader to the end. I gave her a very quick synopsis of Maya's story, and then she started to chant "Come on, strong mama," "You've got this mama," "Oh yeah, you can do this." That helped me so much to sprint it the rest of the way. Crossing that line was one the happiest and proudest moments of my life, and while I wanted to burst into tears, all I could do was beam. Five days later, I'm still feeling the miracles of that moment. A guy with a video camera interviewed me right after we got our medals. I'm not sure where that interview will appear, but I could barely get the words out because I was smiling so much. Blair came in just a few minutes behind us and we got to celebrate our team. This finish line reminds me of other finish lines Maya crosses in life when she accomplishes a goal that has taken a long time to reach. Each finish line is worth celebrating!
Many Teammates, One Goal
I have so many thank-yous to say to all who helped make this day possible for us.  Thank-you to my running coach Heather who gave me so much prayer and encouragement, and gave me a training plan that helped me feel so prepared. I have never felt this good physically after a marathon. I even had enough energy immediately after that I could have kept running. My recovery has been so smooth with hardly any stiffness too!  
Thank you to my family for their support and encouragement. Our older girls made those playlists for Maya and sent us so many messages. Crystal helped get Maya's equipment ready and was out there multiple times on the course to cheer. My sister Kelly helped me with so much of my training. She is a pro at pushing a running stroller because she has used one for all five of her girls. She helped me out when I needed to practice pushing every other mile and helped me get through the end of my long 22 mile training run. My nieces Elizabeth and Eleanor were also along on some of those training runs. Elizabeth rode in the stroller sometimes to feel like I was pushing Maya and Eleanor biked with us. And I felt so much support and prayer from my parents and siblings as well!
Thank you to my Another Mother Runner community for the advice when I needed it, the support and encouragement, and for sharing Maya's story to help us with our fundraiser to get her own racing chair. I know I had so many running friends from around the country cheering for us virtually and it felt like a big hug!
Thank you to Moms on the Run, which has helped me along my running journey as I kept reaching for a further goal and helped me meet my best running friend, Rhianna!
Thank you to the women in She Runs this Town that planned long runs that I could join and helped me get my pushing intervals in. It's so much better to do long runs with others!
Thank you to Ben and My Team Triumph of MN for giving Maya this opportunity and for helping us get set up at Mankato when Twin Cities was canceled.
Thank you to Blair for being a part of our team and sticking with us to do Mankato instead! I know it was not easy at all, and we could not have done it without you!
Thank you to Joy, the race director at Mankato, and the other marathon staff for making this day possible for us and waiting for us to finish when we were nearly last. And thank you to the driver of the golf cart, the medical bike team, and the woman from the sports psychology department that pushed us through the end!
Thank you to each and every one of you who prayed, sent us encouragement, donated to Maya's fundraiser, and more. We are so grateful to you!
And I am so thankful to God for watching over us and giving me a body that can do this, so that Maya can do this."