Driven by desire to enrich the lives of others, making a lasting difference in the world, and creating a welcoming and supportive environment for all.
IMPACT
Moms on the Run gives at least 10% of profits to charity. Our largest partnership has been with Feed My Starving Children, a leading non-profit focused on packing and delivering meals specially formulated for malnourished children around the world.
SCHOLARSHIPS
We offer scholarship funds to women with limited financial means who want to participate in our fitness program.
IN THE COMMUNITY
Our customers regularly participate in charitable races, walks and fun runs to benefit local communities. A few examples include fundraisers for school districts, parks and recreation departments, fallen law enforcement officers and disease research and awareness campaigns.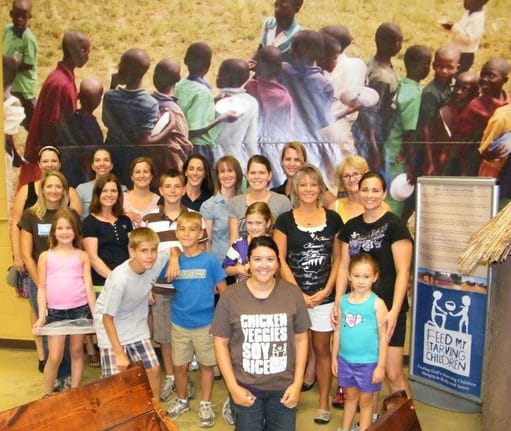 OUR CHARITY PARTNERSHIP
FEED MY STARVING CHILDREN
Feed My Starving Children (FMSC) believes hope starts with food. As a Christian nonprofit, FMSC is dedicated to seeing every child whole in body and spirit. FMSC works with food distribution partners that stay with communities for the long haul, empowering them to move from relief to development.
VISIT FEED MY STARVING CHILDEN
ADDITIONAL ORGANIZATIONS WE'VE SUPPORTED
GIRLS ON THE RUN
Girls on the Run has fun, evidence-based programs that inspire all girls to build their confidence, kindness and decision making skills. Dynamic lessons instill valuable life skills including the important connection between physical and emotional health.

VISIT GIRLS ON THE RUN
GIRL TREK
With 1 million members, GirlTrek encourages women to use walking as a practical first step to inspire healthy living, families, and communities. As women organize walking teams, they mobilize community members to support monthly advocacy efforts and lead a civil rights-inspired health movement.
VISIT GIRL TREK
SNEAKERS4GOOD
The mission at Sneakers4Good is simple—help runners use their sneakers for good.
Did you know over 300 million people worldwide can't afford shoes? That's where Sneakers4Good comes in. They make it easy for your running club, retailer, marathon or gym to recycle old athletic shoes. We get your shoe donations into the hands of people around the world who need them most.
VISIT SNEAKERS4GOOD
CONNECT WITH US TODAY
Take the first step and sign up for our newsletter.  Keep tabs until you're ready to join us.
SIGN UP FOR THE NEWSLETTER