You've heard the saying "you can do hard things." This month's inspiring member, Yvette Marier of Hastings (MN) Moms on the Run, has taken that challenge head on. She just finished her second half marathon and is currently crushing her 10,000 steps/day streak with over 1,000 days — and counting. Read more of Yvette's story and learn why she's our inspiring member of the month.
Q: When did you first join Moms on the Run? Please share a bit about how you got involved. Were you a runner before Moms on the Run?
A: I started my "running" journey in 2018 when my niece needed someone to watch her sons while she ran a longer distance event. After a bit of a discussion, I registered for the 5K in the same Halloween event and pushed her sons in a Burley. That was the beginning of my running story. I continued to join my niece in 5K races and eventually thought about increasing to 10K. My first 10K race was supposed to be during the 2019 TC Marathon weekend, but it ended up as a rainout. Rain and COVID didn't stop me. In 2022, I was celebrating a milestone birthday, so I challenged myself to run a half marathon that November. This is where Moms on the Run comes in. I knew I needed something that would provide me guidance and education on running fundamentals and training options. I had come across a Facebook ad for a group in Hastings and after some contemplation, I registered for the Spring session in 2022.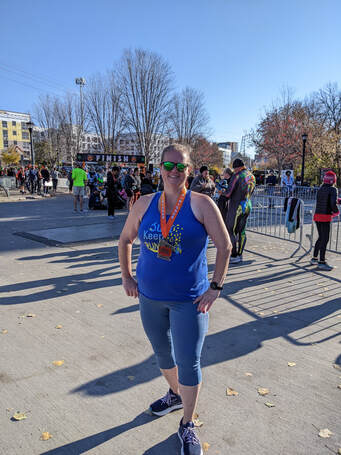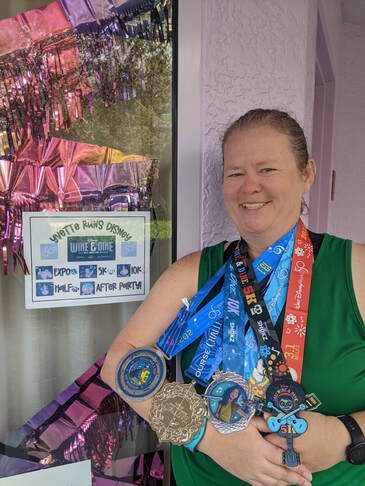 Q: We heard you have a bit of a streak going. Please tell us about that.
A: At our first session for the 2023 Spring season, we had an ice-breaker question about what makes you feel like your day is complete. For me, my day isn't complete/fruitful until I have tracked my 10,000 steps/movement. As of writing this response, my streak is 1,022 days. I prefer to complete my movement outdoors, but on those chilly days here in Minnesota, I do have a treadmill so no reason not to get the steps completed.
Q: You ran into Coach Stacy at Women Run the Cities 10 Mile and recognized her voice from virtual strength and cardio classes. You also were planning to run Grandma's Half last weekend. Can you share with us a little about those races?
A: WRTC was hot and at mile two, I realized sunscreen would have been a good idea. The heat affected me a bit and started having some leg cramps post mile eight. Post race, I found a seat that happened to be near the group Stacy was sitting with. I pushed myself out of my comfort zone and introduced myself. Yet another area of self-growth that Moms on the Run has brought me.
As for Grandma's, when registration opened in late October 2022, I was about two weeks out from running my first marathon. The excitement, or FOMO, that comes when registration opens came over me. I registered for the Great Grandma Half. As soon as the registration was processed, I asked myself, "what are you doing?" Fast forward through my first half marathon (a challenge event), polar run club and the start of our Spring session, and half marathon number two is in the books. The course was nice, scenic and I appreciated the flatness. The weather was perfect for me. Primary goal was to finish and if things went well, I hoped to drop some time. Two goals accomplished! 
Q: 
At Moms on the Run, we talk about being #MOTRstrong. What does that term mean to you?
A: Community – togetherness and support as women in activity, fitness, and life.
Q: What have you learned about yourself since becoming a part of Moms on the Run?
A: I can accomplish amazing things. Five years ago, I never thought I'd want, or be able, to complete a half marathon. Set a goal, train, and find a supportive circle. The circle is there when things get hard.
Q: What advice would you give to someone who is considering Moms on the Run?
A: Just try it! What do you have to lose?
​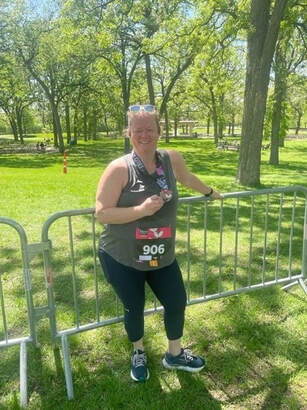 Q: Please tell us a little more about you personally (your family, job-in or out of the home, hobbies, etc.)
A: I'm a household of one. As a non-mom, running communities with "Mom" in the name felt intimidating in the past. Moms on the Run has been very welcoming to this self-proclaimed "World's Best Auntie." When I'm not running, I enjoy spending time with family, which often involves running, watching my niece's boys play baseball and participating in Pound fitness classes. I like to travel, and most trips lately have had a running focus. I've been with the same company 27+ years publishing legal products. Post-COVID our company has not required us to return to office full-time, so I work from home three days a week.