RUNBUCK$: THE MOMS ON THE RUN LOYALTY PROGRAM
Are you a Moms on the Run "Frequent Flyer?" Instead of earning airline miles, you will earn RunBuck$! Earn RunBuck$ points by participating in our various classes, challenges and events. We'll track it for you – just need to show up for Fitness, Fun & Friendship! Below are all the ways you can earn RunBuck$ points (500 points for each item):
PROGRAMS
Spring/Summer classes
Fall classes
Winter classes
WHAT CAN I BUY?
Redeem your RunBuck$ points for merchandise in our online store. Every 500 points will earn you $5.00 toward items in our Moms on the Run store. We add new merchandise and accessories nearly every month! Your franchise owner will award points by the end of the month following the completion of a program, challenge or event.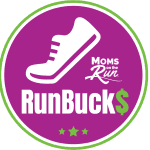 Email the customer service contact at your location when you would like to redeem your RunBuck$ and state the amount you want to use in our store. The minimum redemption amount is $20, with $10 increments up to $50, which is the maximum redemption amount per transaction in the store, and the maximum redemption amount per year. ​ Your franchise will send you a promo code (valid for three months), reducing your account balance by the amount of your promo code, while you shop for your favorite Moms on the Run gear! Remaining balances as of 12/31 will automatically carry over to the next calendar year.
RunBuck$ is a pilot program designed to be mutually beneficial to customers and Moms on the Run. We reserve the right to make changes or discontinue the program at any time. RunBuck$ promo codes can only be used once, and only one code per purchase. Codes must be used all at once, any unused balance is not available to use on another purchase. RunBuck$ promo codes cannot be applied to shipping, gift certificate purchases, pre-order merchandise, or donations we collect on behalf of charities.